Redefining Esports - Balancing Brain and Body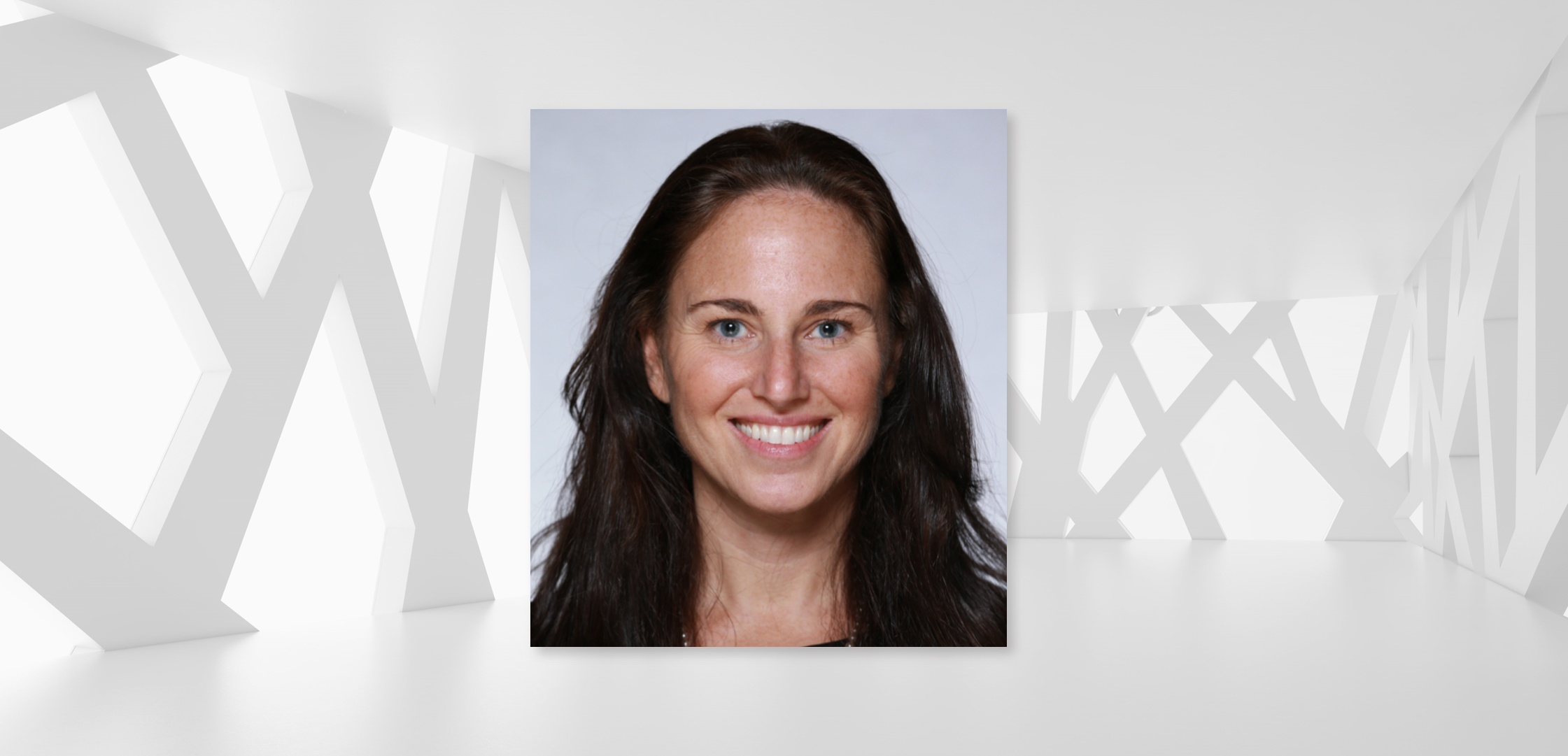 Alumna Kristin Bergin Anderson's company is making waves in esports, coaching professional gamers on how to be fit.
In the high-stakes world of professional video gaming, known as electronic sports, or esports, star players can earn six- and even seven-figure salaries as they compete in tournaments that draw millions of viewers and attract big brand corporate sponsors.
But gaming also puts significant demands on the body and mind. Players in the inherently sedentary, but high-stress sport face the risk of obesity, diabetes, depression and anxiety. Important for gamers is to combine wellness with their strategizing, training, and the hard work they hope will result in a win. This critical combination is one former banker Kristin Bergin Anderson, now CEO of gaming start-up FITGMR understands. Anderson co-founded the company that provides esports coaches and athletes with technology, curriculum and training to help them develop the skills they need to live a balanced life.
At JPMorgan Chase, Anderson spent years learning from and working alongside some of firm's greatest leaders on large, high-profile deals. She was lead banker for United Airlines as the airline neared its exit from bankruptcy, and she worked on large, high-profile bankruptcies and restructurings like Enron and MCI/Worldcom.
"The 5th floor of 270 Park was a machine in the best sort of way," Anderson says. "I continue to be baffled at how efficiently everything was run and what we accomplished. I made friends who seemed like family that I'm still in touch with."
But Anderson, too, had to work on wellness and leading a more balanced life. She started in Chase Manhattan Bank's analyst training program in 1995 and worked her way up to managing director. She loved the wins, the competition, the camaraderie.
In the high-pressure role, she spent hours in front of a screen, exercising her brain more than her body. "I had won the 'game' I was playing," Anderson says, "but I had overstretched myself and did not have the tools, resources or knowledge available today in regards to holistic health."
Ultimately, after trying the "the dotcom thing" as she put it, then rejoining a year later, Anderson left JPMorgan Chase in 2006. She committed to learning more about yoga and meditation, proper nutrition, and the value of having hobbies and passions outside of work.
"I often found myself saying, 'I wish I had known this when I was 13!' I would have been spared a lot of pain and struggle."
Teaching teamwork
With some 4 billion gamers across the globe1, the world of gaming and esports is a massive one. The U.S., alone, has 118 million gamers under age 35, while more than 90% of children in the U.S. play video games. 2
Still, esports is an evolving industry that's recently seen the emergence of college and university leagues and esports college scholarships. Fashion brands have partnered with gaming companies on esports clothing lines. In 2022, India became the latest country to officially recognize esports as a part of multi-sports events, paving the way for government funding.3 In some ways, "it's still very much the wild, wild west," says Anderson. What's been largely overlooked is athletes' health and well-being.
"The question is, how do we create a more sustainable sport for these cognitive athletes?" says Anderson, who, growing up in Chicago in the 1980s recalls playing video games like Frogger and Ms. Pac-Man. "Every professional gamer these days has a physical therapist," she adds. "Why are we treating the symptoms and not the cause?"
With its science-backed approach, FITGMR teaches youth, mostly 13- to 24-year-olds, in-game skills in some of the most popular video game titles like League of Legends. But it also teaches teamwork, communication, emotional regulation, and how to win and lose gracefully. Its five pillars are: physical maintenance, mental conditioning, nutrition, sleep, and lifestyle—which includes pursuing hobbies outside of the gaming world.
The start-up works with professional esports organizations and schools in the U.S. Recently, the Esports Federation of India hired Anderson and team to help it develop the infrastructure for healthy gaming and player development. FITGMR has also partnered with Esports Africa Tournament to launch a new esports league and tournament in Africa.
"We're really teaching a whole new generation how to participate on a team," Anderson says. "At the core of our mission is to reverse chronic diseases." Because only a small percentage of gamers go on to compete professionally, she sees her role as also helping to train future bankers, lawyers and business owners, she adds.
JPMorgan Chase's indelible mark
While FITGMR is only two years old, it's already making a major impact on people's lives. Gamers using FITGMR's mobile app for daily workouts and journaling report less anxiety, greater stamina and more confidence, physical strength and mental clarity.
"We teach what it takes to be your best," Anderson says. "We're trying to build a foundation of character, and there's not a week that goes by that I don't find myself utilizing skills I learned at the bank."
At JPMorgan Chase, managers invested in Anderson's development. She learned from leaders like the late Jimmy Lee who she watched handle difficult situations with grace, conviction and confidence. "I often find myself saying 'what would Jimmy do in this situation'?" she says.
She built skills including evaluating partnerships, negotiating, preparing forecasts, analyzing risk, and problem solving. "I remember the bond I felt with teammates who I trusted immensely and who taught me what it means to be able to rely on and collaborate with others in high-stress situations," Anderson says.
"The years I spent at the firm trained me amazingly well for this," she says. "It's the reason we've been as successful as we've been. JPMorgan Chase has left an indelible mark on me as a person and leader, and I will be forever grateful."
Sources:
1. https://www.economist.com/special-report/2023/03/20/ready-player-four-billion-the-rise-of-video-games
2. Newzoo 2022, Key Insights Into American Gamers; American Academy of Pediatrics, 2023
3. https://timesofindia.indiatimes.com/readersblog/star-dust/esports-in-india-a-rising-phenomenon-51567/
« Back to News