Is Summer Travel Back?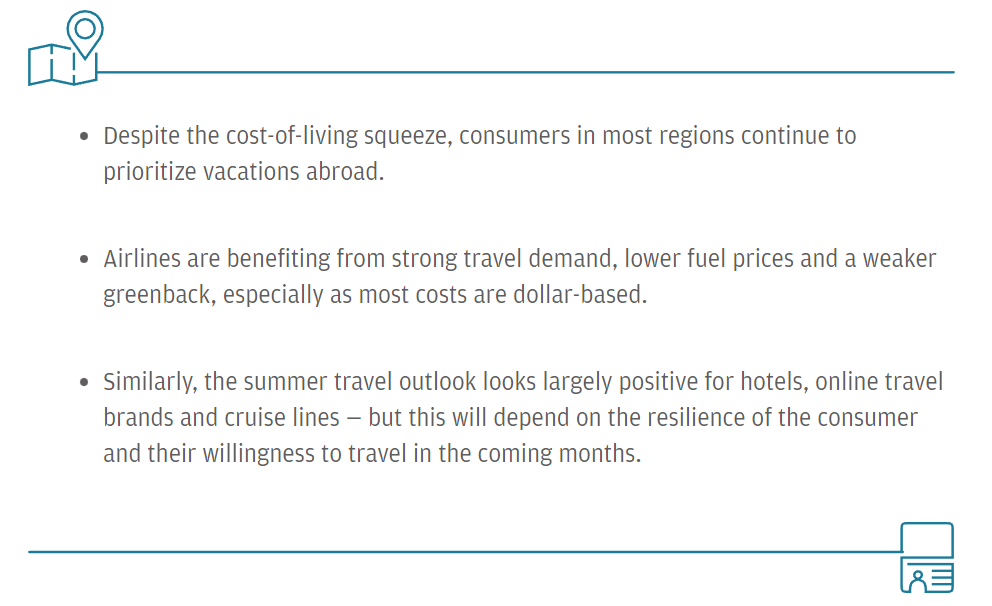 The 2023 summer travel season will soon be in full swing, and the uncertain macro environment does not appear to be dampening consumers' vacation plans. Indeed, the World Travel & Tourism Council (WTTC) forecasts that the global travel and tourism sector will reach US$9.5 trillion in 2023 — just 5% below 2019 pre-pandemic levels.
The positive summer travel outlook is echoed by data from J.P. Morgan Research. The third edition of the Cost of Living survey — which polled 5,000 respondents across the U.S. and Europe in March 2023 — suggests that vacations continue to be a relative priority for consumers, ahead of other non-essential items. In particular, trips abroad are growing in popularity. In the U.K., the percentage of respondents choosing long vacations abroad increased marginally in March, while the percentage of those opting for staycations decreased. The U.S. saw a decrease in long vacations abroad, but an increase in minibreaks abroad — and a deceleration in domestic travel.
Want more insights? Listen to the Summer Travel Research Recap here.
« Back to News