The Tallest Building in the Southwest U.S.
The rapid growth of JPMorgan Chase predecessor Valley National Bank (VNB) led to the 1969 announcement of a new headquarters building for the firm in Phoenix, Arizona. The executives at VNB sought a design that would "convey a distinctiveness and solidarity befitting the headquarters of a regionally prominent bank, provide the city with a positive landmark and serve the space needs of the bank's staff as well as those of the small tenants." The architectural firm of Welton Becket and Associates was tasked with designing the new building.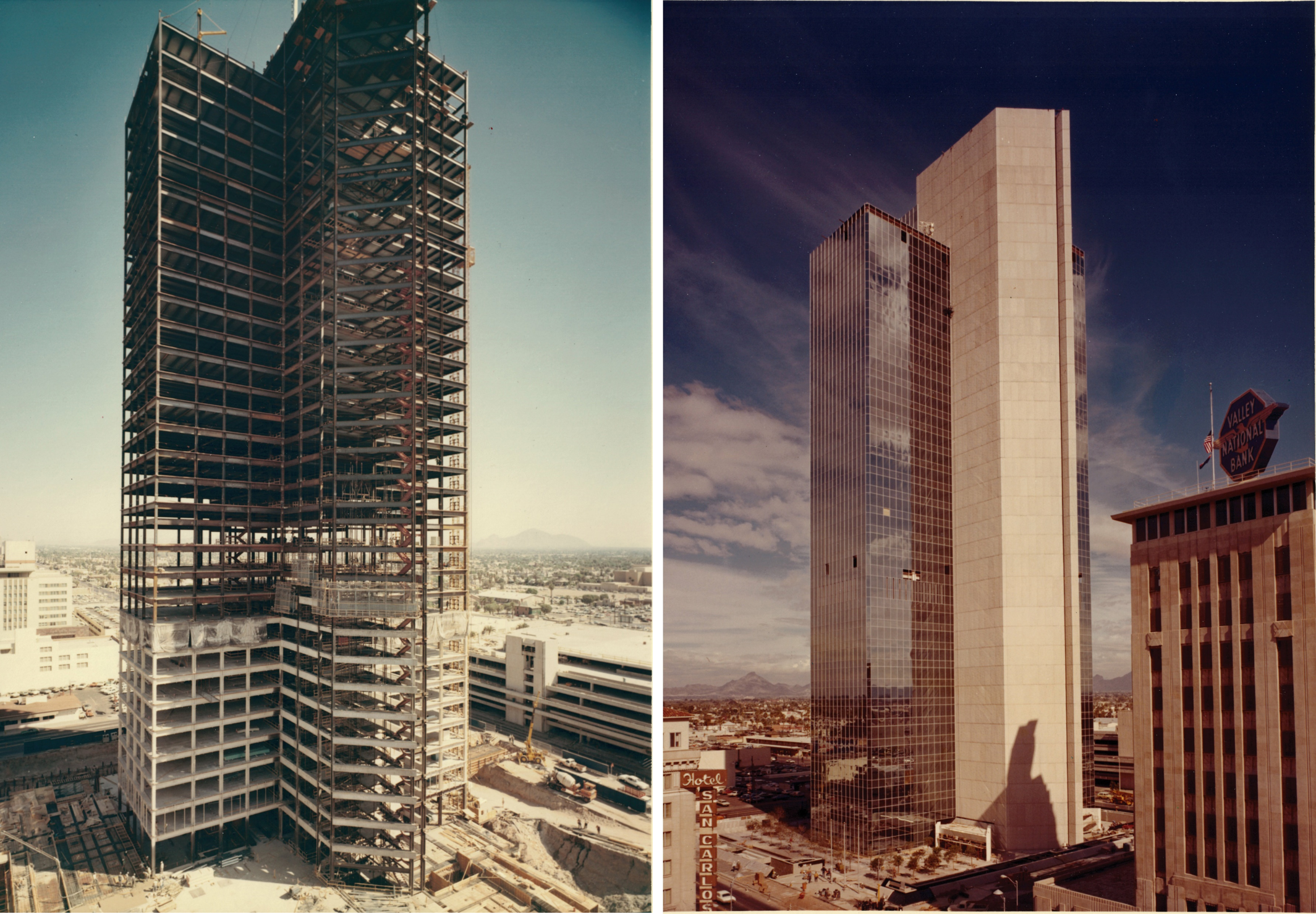 From left - Construction of the Valley Center, March 23, 1972; Exterior view of the Valley Center building in 1973. The previous Valley National Bank building is in the bottom right hand corner.
Ground was officially broken on February 17, 1971 for the 40-story building on the two-block area of Central Avenue and 2nd Street and Van Buren and Monroe Streets. Financing for construction was arranged by two other JPMC predecessors, Manufacturers Hanover Trust Company and Chase Manhattan Bank. Construction took two years, with the dedication of the new building held on March 21, 1973. The completed Valley Center was the tallest building in the Southwest at 483 feet and included 8,200 panes of reflective glass. The 37th floor of the building was home to the Golden Eagle, a continental restaurant open to the public. The Valley Center branch opened on June 4, 1973, fifty years ago this month.
The Valley Center remained the headquarters of VNB through its 1993 merger with Bank One and in 2004 the center was renamed Chase Tower.
« Back to News