15 Minutes with JPMC's Global Head of Corporate Responsibility
Demetrios Marantis on his dream job and what gives him hope.
How can Corporate Responsibility (CR) make a difference?
We don't have all the solutions, but this firm has a unique set of skills, resources and expertise to develop and scale great ideas. These issues have also been systemic in society for generations, so we're working closely with other businesses and with government and community leaders to develop long-term solutions so we can scale what works in communities globally.
A recent example is the firm's response to the war in Ukraine. We worked alongside line of business (LOB) partners to ensure a cohesive response to how we would unwind Russian business and provide humanitarian relief to refugees from Ukraine. We helped advise LOB partners on how to implement sanctions and mobilized more than $10 million in donations for the people affected by the humanitarian crisis — all while ensuring we were supporting our employees and minimizing risks to the business. It's not a small challenge and it will be an issue we remain focused on for months — if not years — to come.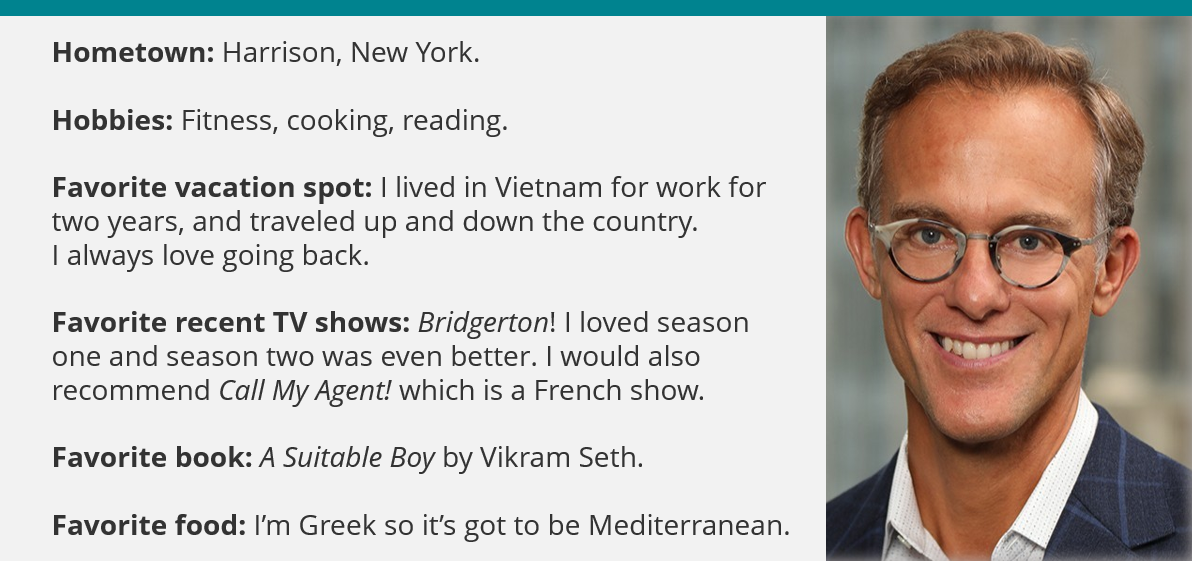 You started at the firm in September 2021. What drew you to this role? What have you been amping up?
This is my dream job. For anyone who's interested in sustainability, inclusive growth and geopolitics — and the ways that government, policy, philanthropy and business work together to advance these objectives — there's no better place to work than JPMorgan Chase. I've followed the firm for a long time and from the outside, it always appeared that this team is best-in-class. Seeing behind the curtain and having the chance now to lead this amazing department, I can now say this is the real deal.
Looking ahead, I'm excited about three things. First, we are working to bolster how Diversity, Equity and Inclusion (DEI) is a core value of CR, both in how we advance our priorities and work together. We've recently announced Dekonti Mends-Cole as the first-ever head of DEI Initiatives for CR to help ensure these considerations are embedded in everything we do.
Second, we need to up our CR game globally as we strive to meet the challenges and amazing business opportunities that we face in markets outside of the United States. The firm's business efforts are growing internationally and the challenges facing communities around the world are vast. There is more we can do strategically to support this business growth and tackle important issues like sustainability and inclusive growth.

Third, we're doubling down on sustainability as we continue to minimize our environmental footprint, help carbon-intensive industries strategically decarbonize and scale green initiatives. We're also elevating sustainability as part of our philanthropic capital strategy, particularly in communities of color that are typically hit hardest by the climate crisis.
Your career has crisscrossed government, nonprofit and different business sectors. Was there a common thread?
Underneath the various jobs I've held, I've always found myself involved in global work that advances sustainability and inclusive growth.
As deputy and acting U.S. Trade Representative, I worked with our international trading partners to help ensure workers, small businesses and exporters had access to sustainable trade flows — which, when it comes down to it, was about supporting more access to opportunity and, ultimately, building stronger livelihoods and communities. Likewise, my work in Congress was ultimately about strengthening economic competitiveness by providing access to both export opportunities and programs to retrain workers for today's economy. And in the private sector, leading teams at Square and Visa, I empowered small businesses to solidify main street economies around the world.
Looking back, some of the strongest results I saw stemmed from partnerships between the public and private sectors. This "sum is greater than the parts" philosophy is why I love our CR approach at JPMorgan Chase.
Your role is global and your team covers nearly 40 countries. What is your approach to ensuring CR meets diverse needs around the world?

Seeing our colleagues around the globe — from Los Angeles to London, and Hong Kong to São Paulo — is a constant reminder that we're operating in a global economy. At the same time, we have to address specific, local challenges. The challenges we're facing might be similar, but each community needs a tailored response. CR is organized geographically to ensure we're able to learn what has worked elsewhere and then to tailor solutions based on local needs.
For example, one of our big priorities is to empower women entrepreneurs by helping them build and sustain their businesses. The challenges in the suburbs of Paris are different than those in New Delhi or New York. But the solutions we can bring forward is consistent: philanthropy, policy, business, community and government engagement and research. We always think local and how to bring the force of our firm to address challenges.
What gives you hope?
The bravery of the Ukrainian people in the face of such tremendous hardship, terror and adversity has reminded me of the resilience of the human spirit.
Closer to home, my husband Christophe is the most important thing in my life. He brings me joy and makes me laugh all the time.
« Back to News