How Culture and Origin Can Impact Your Career
"It was terrifying and exciting because there was no blueprint," says Vivian Young, describing the creation of the firm's first Office of Asian and Pacific Islander (API) Affairs 18 months ago.
As global head, Young began by poring over data relating to the estimated 24 million people in the United States across six main ethnic groups who identify as API. Where do they live? What are the challenges? Within a diverse group representing over 20 countries, one trend emerged.
"Immigration patterns in the data showed that when and how you arrived in the United States — whether through employment, family reunification or seeking refuge from wars or political persecution — resulted in diverse outcomes and presented unexpected challenges," she says.
As an example, she points to rising income inequality among Asian Americans from 1970 to 2016. According to research, Asians in the top 10% earned 10.7 times more than those in the bottom 10%. This trend is driven by varying education levels, income and skills among immigrant groups.1
Young's own story began in the 1970s, when her family emigrated from the Philippines. It was during what she describes as the "first wave" of Asian immigration, influenced by the civil rights movement. The Immigration and Nationality Act of 1965 replaced the quota system that restricted the number of immigrants who could enter the country with a more favorable system that allowed people based on skills or family reunification.
"My father, who was an accountant, sponsored my mother and me to join him in the United States," she says.
Young was three years old when they began a new life in Brooklyn and these formative years gave her an outlook that has shaped her life.
"As immigrants they worked hard for everything we had, and it taught me not to wait for things. There was a hustle spirit: We're going to integrate into our community, get work done and move forward."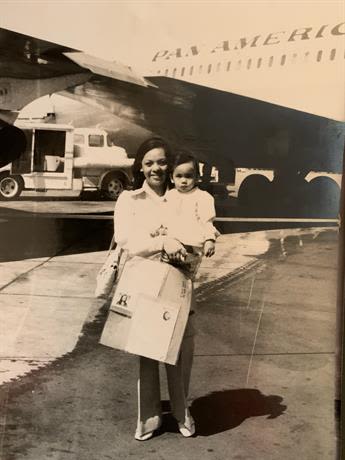 Young and her mother preparing to board their first flight to the United States.
Her father taught her the value of saving money and this sparked an interest in learning more about finance, in particular how the system worked, which led to a career in wealth management. Working at U.S. Trust, she managed relationships with high-net-worth individuals before pivoting to product development and marketing, where she designed solutions that would be adopted by clients. She joined the firm a decade ago in AWM and became increasingly active in diversity and mentorship.
"20 years ago, there were very few diverse women in leadership roles. I had so many mentors and sponsors along the way that I felt I had an obligation to help people navigate the workplace and advise on some of the unspoken rules," she says.
Career advice is an important function of her current role. With an estimated 18% of the firm's U.S.-based employees self-identifying as Asian, her office works to promote a sense of belonging at JPMorgan Chase. One important piece of mobility advice she offers is the need to self-advocate.
"Culturally, our natural bias is to keep our head down and focus on the work. But it's very important to articulate in an authentic way what you have done well and what value you can bring to a team," she says.
This message and others are carried through internal events featuring outside speakers and senior leaders from the Asian Executive Forum.
Externally, the office collaborates with relevant lines of business to drive awareness of the firm in key markets like Boston, New York, Los Angeles, Seattle and San Francisco, which have significant API populations and a large Chase footprint.
"What's important to me in this role is to deliver to our community the tools, resources and education so that they can make better decisions which result in better outcomes," says Young. "Our studies on the API community show most people currently get information from their families, friends or the internet. We want to change that and become a trusted source for information."

The work is still evolving every day. Young describes 2023 as "the year of execution," after an extensive process defining the office's vision, purpose, partners and measurements of success. With a solid team in place, she is excited for what lies ahead.
"Culture and your origin story have an impact on the decision-making process, whether it is managing your career, financial decisions or running your business."
"I'm where I'm supposed to be," she smiles. "I'm grateful to be in a place that rewards and encourages innovation and lets you reinvent yourself. This is my fifth role at the firm. If you can dream it, you can do it."
Learn more about Vivian's story in this episode of the JPMorgan Chase Women on the Move Podcast.
Source: Pew Research Center
« Back to News